BUV Daily
Education reform needs to keep pace with IR4.0
May 12, 2019
03:17:21
A conference named "Quality Schools for Vietnam 4.0: Insights, Challenges, Tools" was jointly organised by the Hanoi Department of Education and Training, the United Nations International School (UNIS) and British University Vietnam (BUV) at the campus of BUV in Ecopark on Sunday. More than 120 participants who are educators from over 60 secondary and high schools, representatives of education authorities and high-profile speakers from the World Economic Forum, UN Women… attended the conference.
This is a special conference for participants to explore the current demands on schools, the rapid pace of change in Vietnam and the demands of Industry 4.0, in order to enable school leavers to take advantage of the opportunities of the future.
It brought together thinkers from government, education and industry to present key issues that face educators today which include technology, innovation, the environment, gender equality and changing pedagogy and investigate what it means to be a quality school for the future.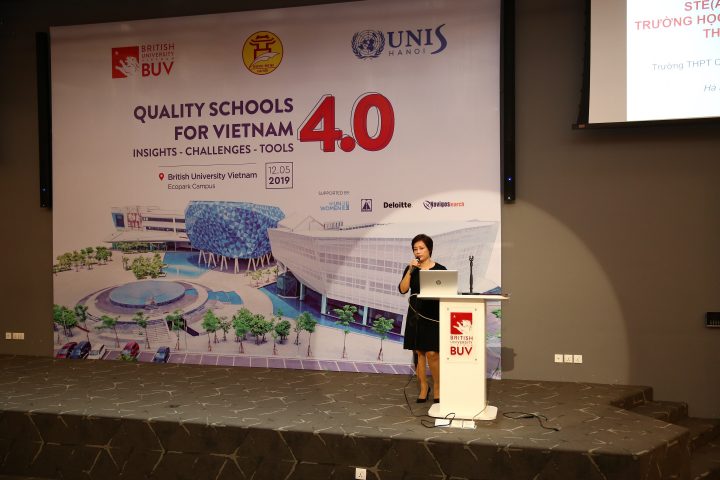 Principal of Hanoi-Amsterdam High School for the Gifted Lê Thị Oanh speaks at the conference.
With the youthful population, a strong universal education system and a growing reputation for the advancement of science and technology, Vietnam is on the right track towards taking full advantage of Industry 4.0. Educators, meanwhile, will play a pivotal role in fostering creative, forward-thinking students to contribute to the continued success of the country on a global level.
Many topics were presented by high-profile speakers including "Teachers for 4.0: Inspiring Case Studies" by Dr. Tshering Lama from World Economic Forum, "Empowered Classrooms" by Sue Nguyen from UN Woman, "Learning Systems" by Sujoy Chaudhuri, Director, Learning Analytics, "STEM in Quality Schools 4.0" by Hanoi Amsterdam High School, etc.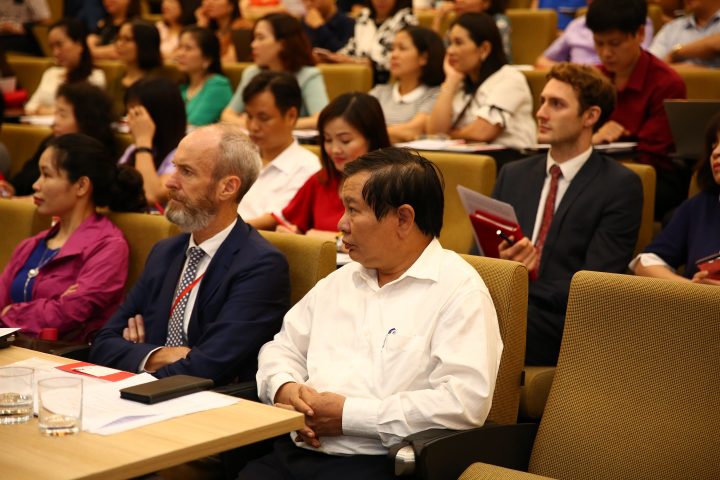 Deputy Director of Hà Nội's Department of Education and Training Lê Ngọc Quang is one of the speakers of the conference.
From the employer's perspective, representatives from Deloitte Auditing Company and Navigos focused on the current and future trends and challenges that both businesses and labor markets face under the impact of the 4.0 Revolution.
Speaking at the conference, Mr. Le Ngoc Quang, Deputy Director of Hanoi Department of Education and Training, said: "Vietnam is in the process of strong innovation in education, especially in the last 5 years, and this innovation gives us both challenges and opportunities. Hanoi has about 2 million students and 3,000 schools, and with the position of the capital, Hanoi determined to pioneer in this innovation process. One of our very important priorities is international cooperation and we are looking for the world's most advanced education and selecting reputable international partners to collaborate and grow together. The British University Vietnam is one of our important partners and we have made agreements to work together and develop in Vietnam."
"A high quality school model was developed only in Hanoi, and we have successfully built all criteria and legal corridors to operate this model. So far we have nearly 20 high quality schools. The theme of today's conference is very practical for us, which are digital school, high quality education and teacher challenges, world economic trends, employment trends and digital teaching," said Mr. Le Ngoc Quang.  
"BUV has partnered with UNIS to bring together the best teaching methodology for global students at school and University level, supporting teaching staff to fully take advantage of all the opportunities today's environment has to offer," Vice-Chancellor and President of BUV, Professor Ray Gordon said.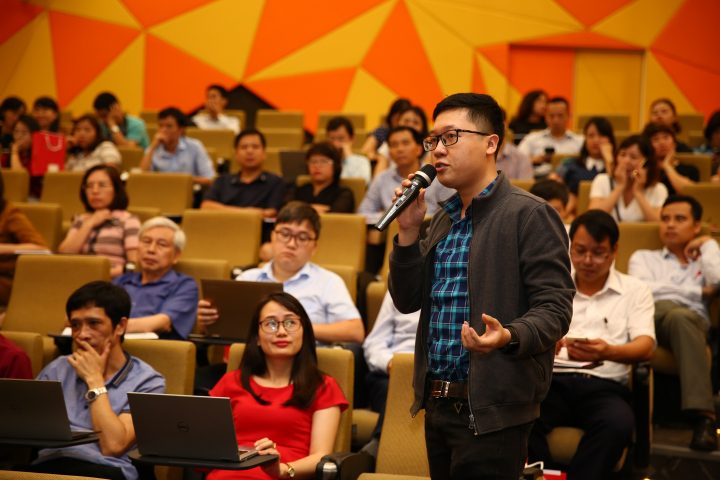 The conference is a chance for participants to explore the current demands on schools, the rapid pace of change in Vietnam and the demands of Industry 4.0, in order to enable school leavers to take advantage of the opportunities of the future
"Participants will gain an insight into the latest pedagogical developments to maximise outcomes in the classroom as well as the skill sets required by today's school leaver and university graduate to succeed in an increasingly competitive workplace," he added.
Within the framework of the conference, BUV launched the International Centre for Excellence in Learning and Teaching with the aim of providing contemporary and innovative teacher training and continuous professional developing programmes of the highest quality to educators, educational institutions and other stakeholders in the education space operating both within Vietnam as well as in the region.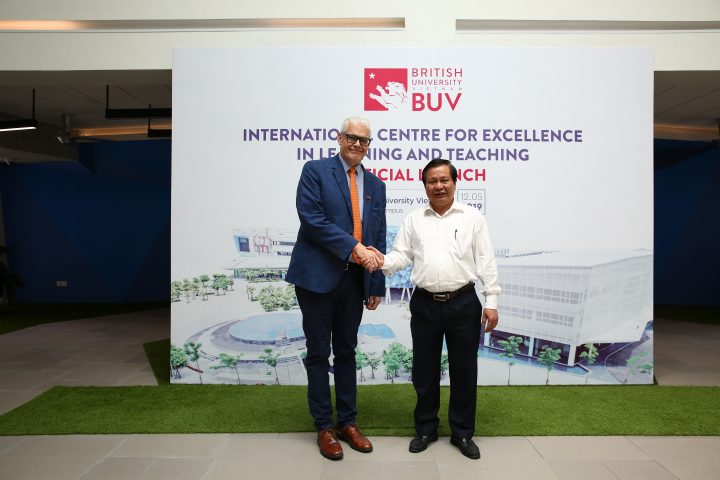 BUV's Chief Academic Officer, Christopher Jeffrey, shakes hands with Mr. Lê Ngọc Quang at the launching ceremony of the International Centre for Excellence in Learning and Teaching.
Christopher Jeffrey, Chief Academic Officer of British University Vietnam said "Working in conjunction with the Ministry of Education and Training BUV is committed to the development of the education sector at all levels, we are very proud to launch the International Centre for Excellence in Learning and Teaching, ICELT, to support Vietnam's ambition to take full advantage of IR 4.0."
"Education is the foundation of development of a nation and BUV believes it should support the further development of human capital involved in the education sector, bringing international thought with a mindset which is anchored in Vietnam, ensuring that teaching staff can compete globally," he said.
With leading experts and leaders in educational research and philosophy, the centre will provide guidance and advice based on the best practices, playing an important role in enhancing and developing the capability of educational managers, contributing to equip students and their lifelong learning spirit in the Industry 4.0 and beyond.
Participants can pursue several programmes including a Postgraduate Certificate in Education (PGCE) granted by the University of London; Career Development Training Program under the Cambridge system, and more.
[contact-form-7 id="1248" title="Application Form" html_class="site-body col-xs-12"]
Read more